Best hot air balloon Marrakech
Best hot air balloon Marrakech
Hot air balloon rides in Marrakech are popular, providing a unique perspective of the city and its surroundings. A typical Marrakech balloon safari begins with an early morning departure when weather conditions are more suitable for flight.
You may enjoy beautiful views of the city, the Atlas Mountains, and the surrounding desert landscape during the balloon ride. The tour normally lasts approximately an hour, giving you plenty of time to take in the views and take great images. Following your flight, you may be served a traditional Moroccan breakfast or beverages.
Best hot air balloon Marrakech highlights
Marrakech balloon flights program
Join this one-of-a-kind Balloon flight packages Marrakech and treat yourself to an unforgettable adventure filled with emotions.
Get on board a massive air balloon and take in the panoramic panoramas of Berber settlements and the Atlas Mountains that spread before your eyes.
Following an early morning hotel transfer by 4×4, you will be greeted in a luxury Berber tent for a full and delectable breakfast.
After that, you'll join your pilot for a 40- to 60-minute hot air balloon journey above the clouds.
At the end of your journey, you will be given a flying certificate to keep as a remembrance of your voyage in the skies over Marrakech.
This experience is planned to be as comfortable and safe as possible.
What is included & excluded in this hot air balloon Marrakech tour:
More info about Marrakech hot air balloon tour
FAQ about Marrakech desert balloon rides
The best time of year to go for an air balloon ride in Marrakech is during the cooler months, from October to April.
The duration of a hot air balloon ride in Marrakech can vary depending on the package and weather conditions. Generally, the flight lasts for about 45 minutes to 1 hour.
To book your Ballooning over Marrakech, you only have to contact us via Email or WhatsApp, or even via our social media accounts, our staff will make sure to supply your needs.
Ballooning in Marrakech overview: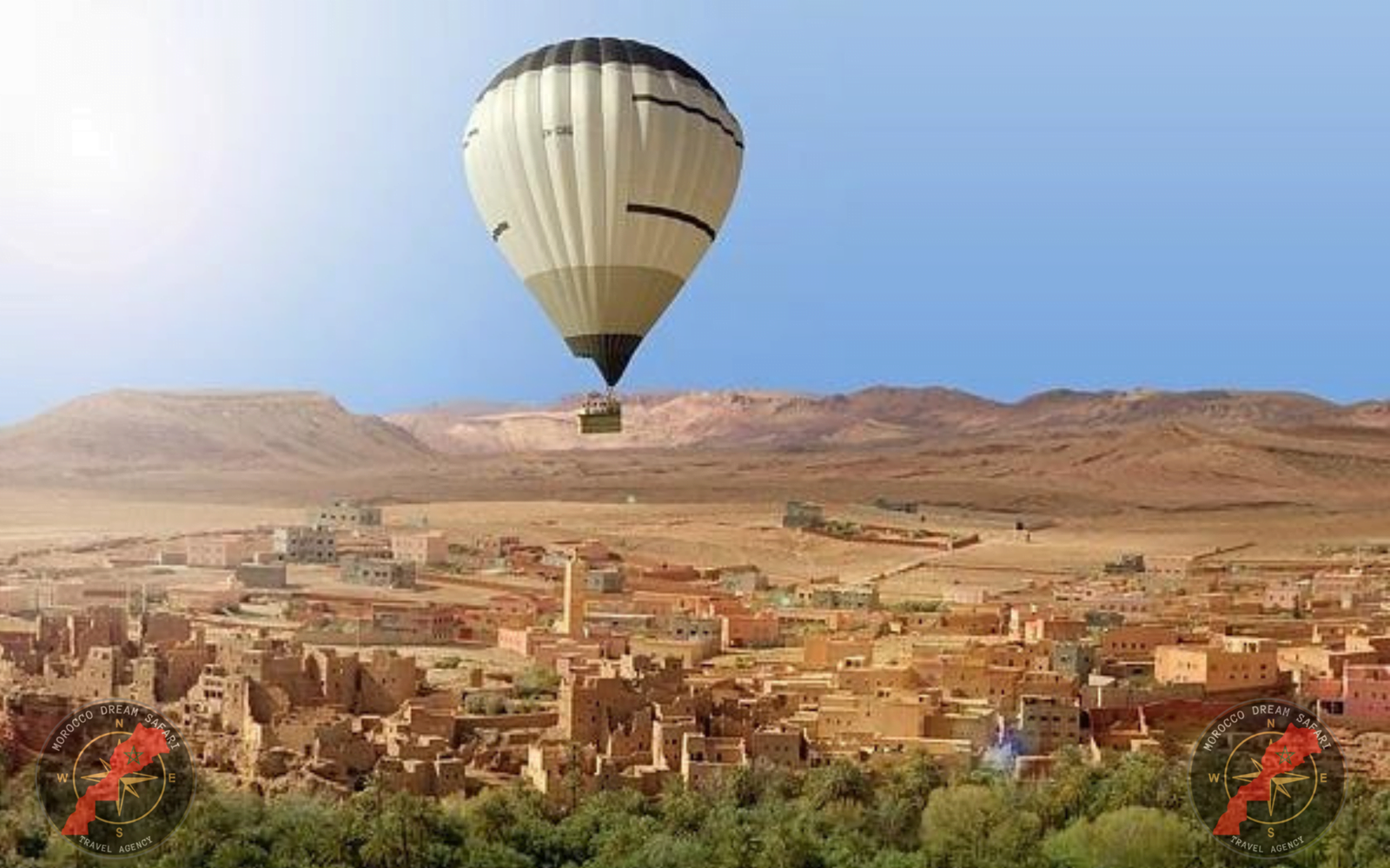 The first thing that comes to mind when you think of Morocco is Marrakech. A trip to Morocco would be completed without a stop in this lovely city.
Marrakech is Morocco's second-largest city and is known as the "Red City" because of the color of the bulk of the houses. The name is derived from the Berber word "mur(n) akush," which means "God's Land."
The city is separated into two sections: the medina (the medieval defensive city) and a contemporary city nearby (named Gueliz).
Many attractions await you on our Marrakech balloon flight, including:
Majestic Atlas Mountains: As you ascend into the sky, you'll enjoy a breathtaking view of the snow-capped Atlas Mountains that surround Marrakech.