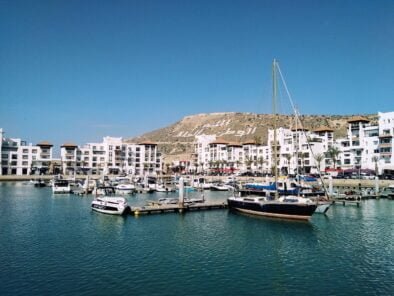 Agadir is a coastal city in the southern part of Morocco that is renowned for its stunning beaches and vibrant atmosphere. This bustling city is a popular tourist destination and offers a wide range of activities and attractions for visitors of all ages and interests. Whether you're interested in outdoor adventure, cultural experiences, or just soaking up the sun, there is something for everyone in Agadir. In this post, we'll take a closer look at the best things to do in this dynamic city.
1: Visit the Agadir Beach
The most popular beach in Agadir is the Agadir Beach, a long stretch of sand that is perfect for sunbathing and swimming. With its clear blue waters and soft sand, this beach is ideal for families with young children.
Another great beach in Agadir is Taghazout Beach, which is popular with surfers due to its powerful waves. This beach is a great place to catch some sun and watch the surfers ride the waves. If you are interested in surfing, you can also take lessons here, as there are several surf schools in the area.
For a more secluded beach experience, visit the Paradise Valley, which is located just a short drive from Agadir. This stunning valley is surrounded by cliffs and offers a beautiful oasis of palm trees, streams, and pools. With its crystal clear waters and lush vegetation, Paradise Valley is the perfect place to escape the hustle and bustle of the city and relax in nature.
2: Explore the Agadir Oufella
The Agadir Oufella is a medieval Kasbah that sits atop a hill overlooking the city. This historic site offers breathtaking views of the surrounding area and is a great place to get a sense of Agadir's rich cultural heritage. Visitors can explore the ruins of the Kasbah, including the remains of the ramparts, the mosque, and the palace, and learn about the city's history and its significance as a trading and military hub.
3: Take a Stroll Through the Agadir Souk
The Agadir Souk is a vibrant and bustling marketplace that is a must-visit for anyone interested in Moroccan culture and history. With its maze of narrow alleys lined with shops and stalls selling everything from spices and textiles to jewelry and crafts, this souk is a sensory feast for the senses. You can spend hours browsing the wares on offer and haggling with vendors, soaking up the sights and sounds of this lively market.
4: Visit the Valley of the Birds
The Valley of the Birds is a beautiful natural reserve located just outside of Agadir. This lush valley is home to a wide range of bird species, as well as other wildlife and vegetation, making it a great place to escape the hustle and bustle of the city and immerse yourself in nature. Visitors can take guided tours of the valley and hike through the rolling hills, taking in the stunning scenery and observing the local wildlife.
5:Take a Day Trip to the Souss-Massa National Park
The Souss-Massa National Park is located just a short drive from Agadir and is a must-visit for anyone interested in nature and wildlife. This vast national park covers over 80,000 hectares and is home to a wide range of animals, including Barbary macaques, Barbary apes, and a variety of bird species. Visitors can take guided tours of the park and explore the diverse landscapes, from the rugged coastline to the rolling hills and the verdant river valleys.
Morocco is famous for its camels and taking a camel trek is a must-do for anyone visiting the country. You can choose from a variety of different treks, ranging from a leisurely one-hour ride to an all-day excursion. Camel treks are a great way to explore the countryside and get a glimpse of traditional Berber life.
7: Explore the Local Museums
If you're interested in learning more about the history and culture of Morocco, there are several museums in Agadir that are worth visiting. The Amazigh Museum is a great place to start and is dedicated to the Berber culture of Morocco. The Museum of Moroccan Judaism is another interesting museum that explores the history and culture of the Jewish community in Morocco.
taking a desert tour from Agadir is one of the best things you can do during your visit to this beautiful city. Whether you're looking for a cultural experience, an adventure, or simply a chance to admire the stunning natural beauty of Morocco, a desert tour is an excellent choice. So why wait? Book your desert tour today and discover the magic of the Saharan desert!
the best thing to do in Agadir is to explore its beautiful beaches, visit the Souss Massa National Park, take a stroll through the souk of Agadir, relax in a traditional Moroccan hamam, and sample the local cuisine. Additionally, adventure seekers can enjoy activities such as dune bashing, quad biking, and camel rides. With so much to see and do, Agadir offers something for everyone, making it a must-visit destination in Morocco.