Motorbike tour assistance Merzouga
Motorbike tour assistance Merzouga
Morocco Dram Safari provides experienced assistance for motorbike excursions in the Merzouga desert, including itineraries, knowledgeable guides, route suggestions, logistical assistance, and comfortable accommodations.
Throughout your adventure, our staff delivers top-of-the-line equipment, skilled guides, and comfortable accommodations. Our motorbike adventures take you across Morocco's breathtaking landscapes, from the harsh highlands to the enormous, awe-inspiring desert. With our top-of-the-line motorcycles and equipment, you'll experience the thrill of off-road riding like never before.
Motorbike tour assistance Merzouga highlights:
Itinerary Planning: Assistance in creating a customized itinerary based on the duration of the tour, preferred routes, and desired attractions or landmarks to visit in and around Merzouga.
Route Suggestions: Providing recommendations for the best routes to take, including scenic roads, off-road tracks, and specific points of interest along the way.
Rental Services: Helping to arrange motorbike rentals, ensuring availability, and providing options for different types of motorcycles based on the riders' preferences and experience levels.
Logistics Support: Providing logistical support such as arranging support cars, organizing fuel stops, advising on bike maintenance and repair services in the area, and providing expert guides, particularly between Merzouga and Zagora via Tafraout Sidi Ali.
Accommodation Arrangements: Assisting with finding and booking suitable accommodations along the tour route, considering factors such as proximity to attractions, availability of secure parking, and amenities for motorbike riders.
Guided Tours: Offering the option of guided tours led by experienced local guides who are familiar with the area, its culture, and its hidden gems.
Our Motorbike guided tours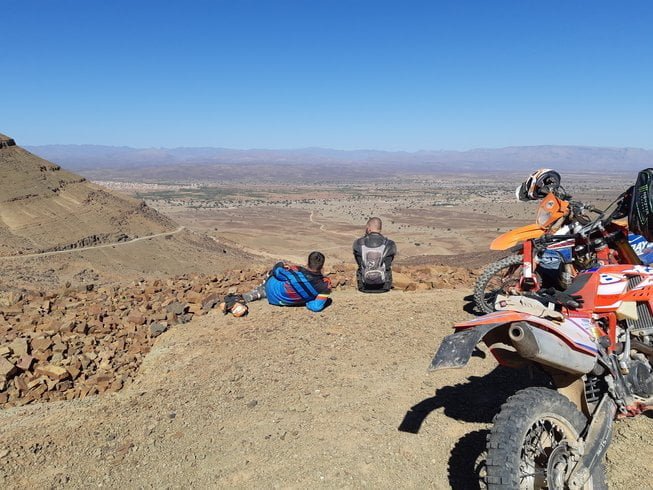 Moto tours from Ouarzazate
What is included & excluded in Motorbike tour assistance Merzouga:
More info on Motorbike tour assistance Merzouga